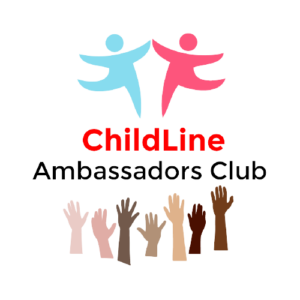 What is the ChildLine Ambassadors Club?
Formed in April 2021, the ChildLine Ambassadors Club (CAC) aims to continue the work beyond the ChildLine Ambassadors Program. This youth-led club provides its members with the opportunity to assemble and have their voices heard on issues affecting them. A notion that is in line with the United Nations Convention on the Rights of the Child. 
The members of the CAC are desirous to contribute to the betterment of their peers on matters relating to mental health and psychosocial wellbeing. In this regard, the CAC aspires to create an environment where children and young people can experience strength in unity. The motto, "Today's Learners, Tomorrow's Leaders", underscores the commitment to facilitate empowerment through support and advocacy on behalf of those vulnerable in hopes of creating a brighter future in Trinidad and Tobago.
Mission
To empower, support, and advocate on behalf of children and young people, to improve their psychosocial wellbeing and life opportunities.

Vision
A safe and supportive place for children and young persons to experience strength in unity.
To promote psychosocial wellbeing among children and youths.
To align with and complement ChildLine's Vision and Mission.
To provide all its services in a way that is fair to everyone.
Today's Learners, Tomorrow's Leaders
Respect, Integrity, Love, Hope and Unity
The affairs of the CAC are conducted by an elected Board which is made up of 10 officers and an ex officio member who is a staff of ChildLine. Elections are held yearly at the CAC's AGM. Only registered members are allowed to vote and submit their candidacy for any of the following positions on the board:
President
Vice President
Secretary
Deputy Secretary
Treasurer
Public Relations Officer (3 positions)
Events Coordinator (2 positions)
Uphold the mission of the Club and serve all members
Develop organizational strategy and policies, and ensure its implementation
Approve and oversee the budget and financial matters
Incorporate member needs into organizational decisions
Attend to member disciplinary matters
Membership
Persons between the ages of 13 to 25 are welcome to join the Club, once they have completed the Ambassadors Programme, or equivalent training in child protection and wellbeing.
Are you interested in being a part of a community that encourages love, support and having fun while attending to matters of importance to children and young people? Then, the CAC is the right fit for you. As a team, the aim is to promote mutual support, while forming meaningful relationships and understanding the importance of volunteerism social responsibility. Therefore, the mission is to achieve these milestones by using age-appropriate activities and creative outlets geared towards membership growth and development.
Persons interested in becoming Club members are required to complete the registration form and a consent form (if they are under the age of 18). Those who wish to become a member of the CAC who has not completed the Ambassadors Programme are required to complete training in child protection and wellbeing offered by ChildLine.
For more information on joining the CAC email club@childlinett.org or visit their Facebook and Instagram pages at @childlineambassadorstt.